That's right, things are looking a little different here! This is the best prize I could have hoped to win! I won a head-to-toe make over for my blog. The fine folks over at
Knuckleheaders
sponsored a giveaway at give away today and I won (cause the first winner didn't respond, but none the less!)
Megan really worked with my comments and my blog to get a real feel for what I wanted. We talked about what I like and needed and came up with a great new header. She makes these things called skinnies too, but I rather like the plumpness of my blog. She also made me this great button. I don't know exactly how I'm going to use it yet, but I will for sure... You should totally go check out her cute designs.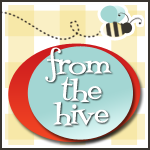 The header you see today is what she came up with for me. I told her I liked the old retro girl with a broom and her little girl and she gave me an updated version of that. I think she did a great job! She also was so kind and installed and made all of the setting changes, etc for me. I love how she incorporated a bee and some gingham which I would have picked for myself but did not even think to mention that to her.
If you blog needs some love, in the design area, talk to Megan!